Regular price
Sale price
$56.99 USD
Unit price
per
Sale
Sold out
Holistic Blend For Every Horse, Every Day
Formulated with a blend of four, carefully chosen species of our Certified Organic mushroom powders, Mushroom Matrix Wellbeing (formerly Vitality) works to help enhance your horse's overall health. Equine Wellbeing provides antioxidant support, beta glucans, and other bio-active compounds from our powerful mushroom species. Excellent support for senior horses, Mushroom Matrix Wellbeing is suitable for horses of every age and discipline. A scoop a day delivers support to keep your horse in peak condition.
Key Benefits
Equine Wellbeing can help strengthen your horse's immune system. Provides unique antioxidants. Helps to support normal kidney, liver and immune function.
Supports a healthy inflammatory response
May help with discomfort associated with normal exercise and activity
Promotes healthy cardiovascular function
Powerful antioxidants help to reduce free radical damage
Made in the USA by Mushroom Matrix - the Mushroom Experts
More About the Mushrooms in Equine Wellbeing:
We grow 11 carefully selected species of mushrooms in our indoor farm in Carlsbad. Mushroom Matrix Vitality has been formulated with these four mushrooms to deliver broad spectrum support. Mushrooms have been used around the world for centuries to benefit human health. Equine Vitality supplies functional, organic mushroom powder to release these holistic benefits for your horse as well.
Cordyceps – Originally discovered by Tibetan herdsman at high altitudes, Cordyceps supports a healthy circulatory system and healthy oxygen uptake. Favored by both human and equine athletes.
Reishi – a natural "adaptogen" to help balance the immune system's response to physical and mental stress. Long history of use in people in Traditional Chinese Medicine.
King Trumpet – Supports healthy inflammatory response with the unique antioxidant L-ergothioneine. Shown in studies to support bone and skeletal health.
Antrodia - Traditionally used in its native Taiwan for longevity and vitality, Antrodia is also noted for immune support and support for healthy liver function.
For horses, just as for people using our Om products, the benefits of our Equine mushroom products work on a daily basis and build gradually. Your horse may benefit from an occasional serving but a scoop of Equine Vitality every day will ensure that your horse gets the full benefits this supplement provides.
Share
View full details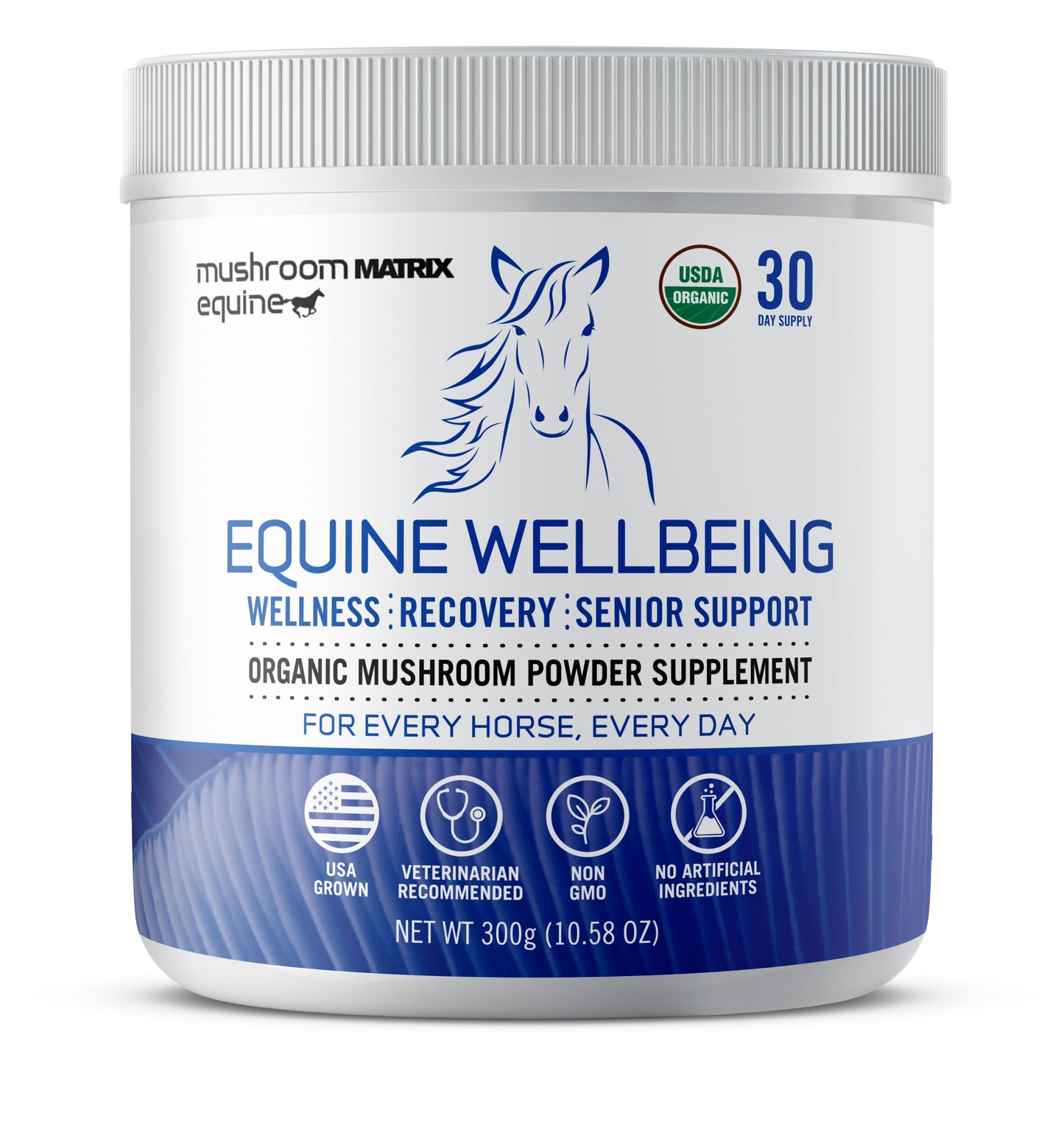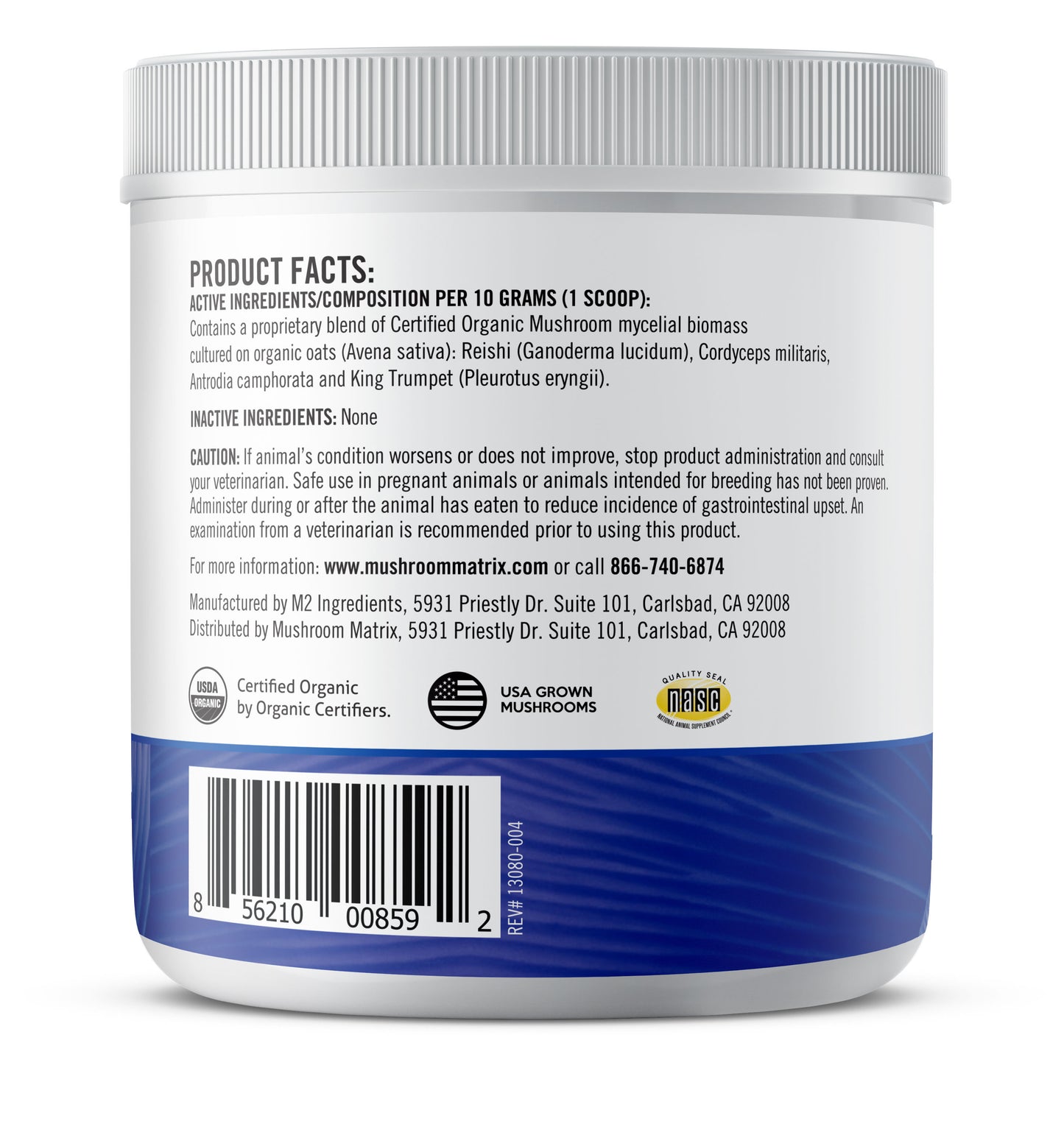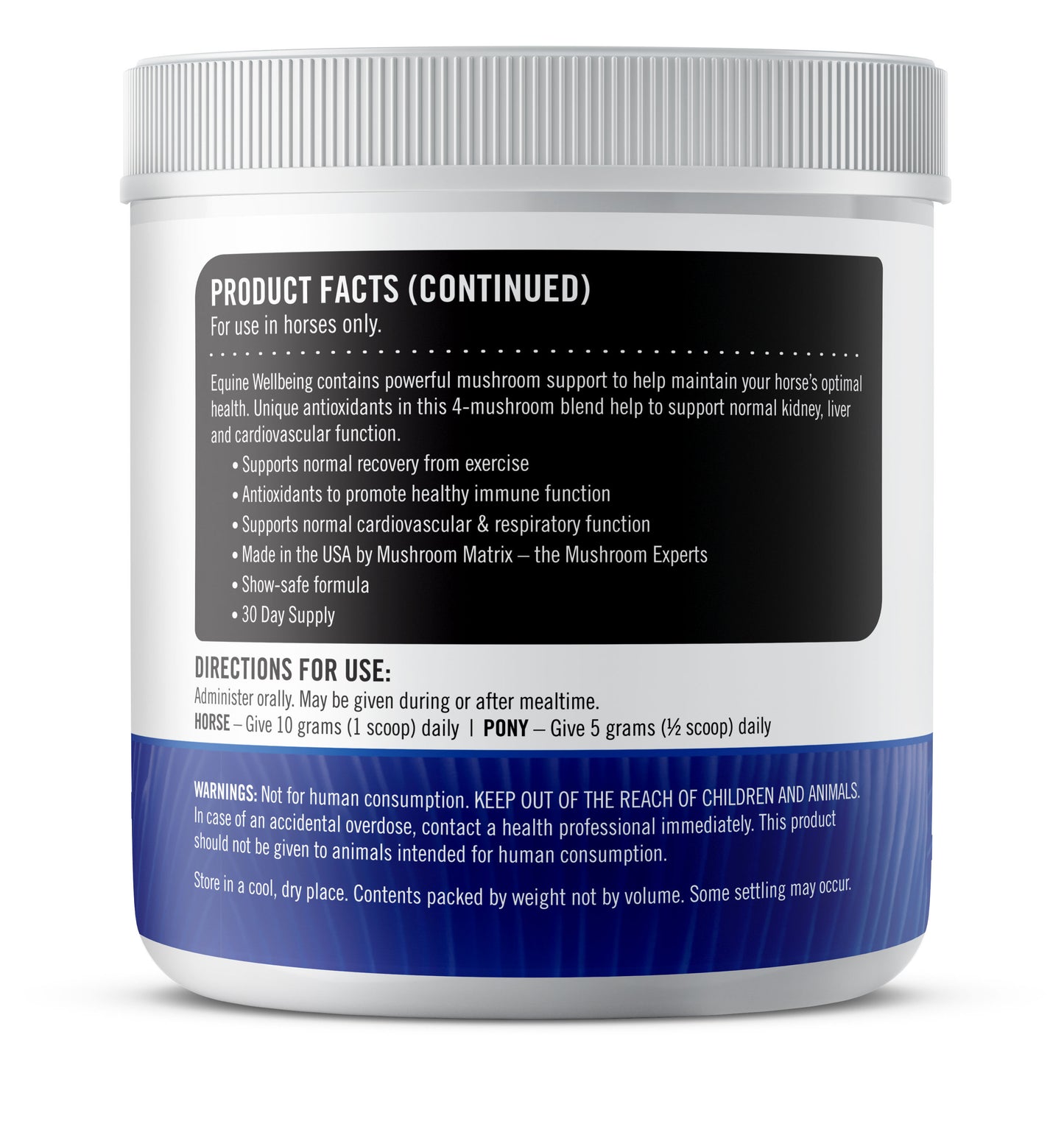 Equine Wellbeing FAQs
What is the difference between Equine Wellbeing and Equine Matrix products from the Veterinary / Professional line?

Equine Wellbeing is formulated for horse owners wanting to optimize their horse's overall health and well-being with our mushrooms. This product comes in a 30 serving, 300g jar. If you have multiple horses or horses in competition that use more than one scoop daily, you may want to consider a product from the Equine Matrix Veterinary / Professional line as they are available in larger sizes. 

Can my horse show or compete while using Equine Wellbeing?

All our products are Show Safe and contain no prohibited substances.  However, we always recommend that you consult FEI CleanSport, USEF or your discipline's governing body for more information.

Why is there no loading period recommended for Equine Wellbeing as there is in the Veterinary / Professional line of Equine Matrix products?

Horses under veterinary care or performing at top levels often need the additional support of an initial double loading period and sometimes continue on the two scoops a day. However, horses under ordinary circumstances thrive on one daily scoop.
Free Shipping

Any order containing at least one subscription item with a delivery address in the contiguous United States will receive FREE shipping. Our Shipping Policy

100% Satisfaction Guarantee

If you are not satisfied with your purchase for any reason, please contact us within 30 days for a full refund, at our team's discretion. If you purchased from one of our resellers, please return it directly to them. Our Return Policy
Disclaimer: Reviews are for information purposes only. These testimonials are written by customers who are reporting their own experience. These observations are not medically substantiated, are not guaranteed and may not be typical for you or your animals. Reviews are subject to minor modifications to comply with Federal, State and NASC requirements. These reviews do not replace professional medical and/or veterinary care.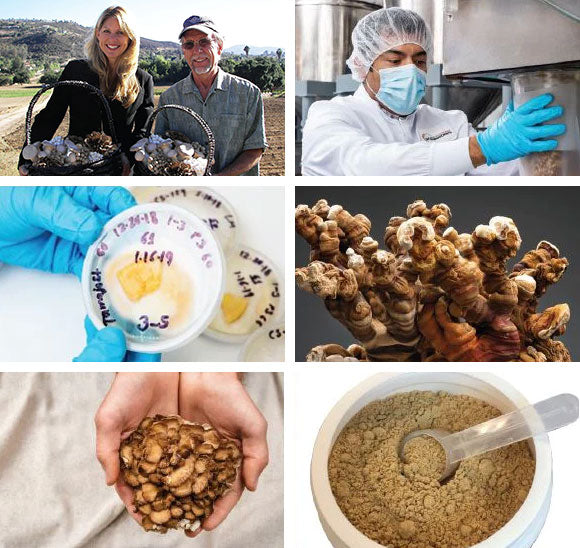 Our Mushrooms
Our state-of-the-art indoor farm in Carlsbad, California, allows our 11 species of mushrooms to grow and flourish under carefully controlled conditions to deliver the best mushroom products available anywhere. Our mushrooms are Certified 100% Organic by Organic Certifiers following Good Manufacturing Practices (cGMP) at our facilities, located in Carlsbad, California.
More About Us
Choosing a selection results in a full page refresh.
Opens in a new window.
Net Orders Checkout
| | | | |
| --- | --- | --- | --- |
| | | Subtotal | $0.00 |
| | | Shipping | |
| | | Total | |
---
Shipping Address