Natural joint supplement for dogs & cats

Canine Matrix Joint supplement delivers support for healthy hips and joints in your pet. How? The amazing mushrooms in Joint Matrix contain natural glucosamine.  Additionally, special antioxidants and other compounds deliver further support for bone health. In fact, Joint Matrix is the best holistic alternative to ordinary joint supplements. The mushrooms in Joint Matrix help keep your dog's bones, cartilage and joints healthy. Great for cats too.  In all, if you are looking for a natural alternative, Joint Matrix works.  It's that simple. Easy to feed, just mix into raw, dry or wet food. 
Key Benefits
Supports healthy joints and increased mobility*
Naturally occurring glucosamine from chitin*
Provides Super Antioxidant l-Ergothioneine*
Supports healthy inflammatory response*
Helps maintain & support joint flexibility*
*Please consult your Veterinarian with any questions you may have about your pets health.
Contains a proprietary blend of Certified 100% Organic Mushroom mycelial biomass, primordia and/or fruit body cultured on organic oats: Pleurotus eryngii (King Trumpet), Cordyceps militaris, Antrodia camphorata, Agaricus blazei, Grifola frondosa (Maitake), Ganoderma lucidum (Reishi) & Hericium erinaceus (Lion's Mane).
Administer Orally. ½ teaspoon per 25lbs per day. We recommend double dosing the first 3 weeks of use (morning & evening if practical). Continue double dosing when needed. Mix into wet or dry food, moistening if needed. Please see our FAQs for additional suggestions. Great for our feline friends too.
DOSAGE: 1 Gram (1/2 teaspoon) per 25 lbs per day.

For animal use only. Not for human use.If you are concerned about the welfare of your animal at any time, please consult your veterinarian. Safe use in pregnant animals or animals intended for breeding has not been proven.
Store in a cool, dry place.
Contents packed by weight not volume. Some settling may occur.

Customer Reviews
11/26/2020
Barbara .

Canada
Best supplement for dogs
This mushroom mix is The Bomb ! Our 13yr old labradoodle has been on it for the past two years with amazing results Mushroom matrix has helped Chester with Arthrisris, post surgery and general aging. He is a vibrant energetic senior dog thanks to Mishroom Matrix Thank you!!!
06/28/2020
Lee A. Miller

United States
So far Happy dogs!
I have a senior 13 chihuahua and an 8 year old terrier/chihuahua they are eating it up. We are just at the 2 week mark and they are moving freely and happily. I will follow up again in a month or so.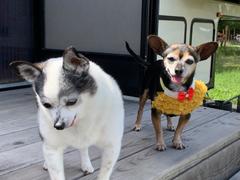 11/07/2019
Phyllis M.

United States
Great supplement
My dog is doing wonderful since I've been giving him this supplement. It makes a nice gravy in his food.